Operalesque

The Sexiest Women of Opera
Die erotischsten Frauen aus der Welt der Oper
Picture the glory of the female voice combined with the sensuality of the female form.
This is the essence of Operalesque.
Starring:
Rachel von Hindman as Diva
johanna Blackstone as Decadence
Opera, Musical Theater, Cabaret songs, Old Standards reinterpreted with our own Bizzare, Grotesque, Sexual, Humorous style.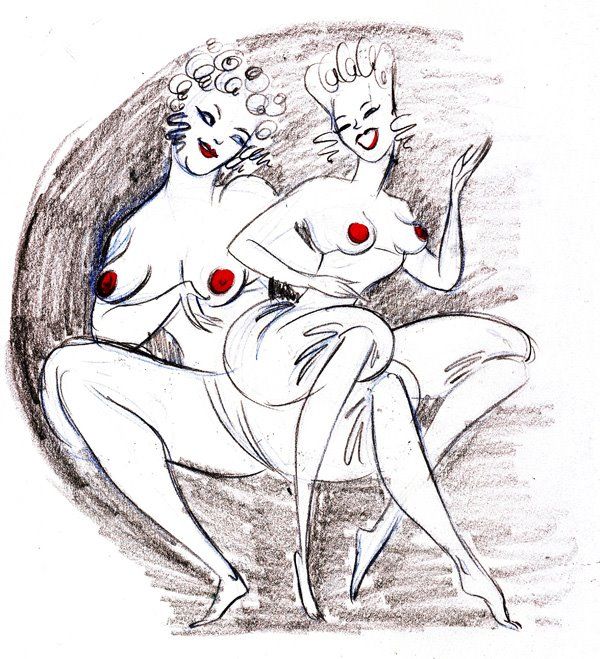 Book us for Events, Festivals, Burlesque Shows, Band Nights, Fetish Parties, Maskenball. We can also create an act to fit your needs; Baroque, Victorian, 20s, horror, grotesque, glamorous, strange. Based out of Berlin Germany.

Opera was popularized as a form of entertainment for the masses, appealing not only to royalty, but also to the man on the street. Its sensuality and spectacle were a fascination. In modern times, directors have tried to revitalize the aging art form with productions full of nudity and sex, but too often in a context of sleaze, violence and brutality. Operalesque brings audiences back with the beauty and elegance of opera paired with the allure and titillation of burlesque.
Our program of arias and scenes bring you the sizzle beneath the surface of opera, with an added dash of humor and fun. The women portrayed in these vignettes are truly some of the sexiest women of opera.
~
Stellen Sie sich die Vollendung der weiblichen Stimme, kombiniert mit der Sinnlichkeit weiblicher Formen vor. Das ist die Essenz von Operalesque.
Die Oper war populär als Unterhaltung für die Massen; attraktiv nicht nur für den Adel sondern auch für den einfachen Mann von der Straße. Ihre Imposanz und Sinnlichkeit waren faszinierend. In neueren Opernproduktionen versuchen Regisseure die alternde Kunstform mit Nacktheit und Sex zu revitalisieren, allzuoft aber auch mit Obzönität, Gewalt und Brutalität. Operalesque bringt die Zuschauer zurück zu Schönheit und Eleganz der Oper gepaart mit den Allüren und dem Nervenkitzel von Burlesque.
Unser Programm von Arien und Szenerie bringt Ihnen das Knistern unter der Oberfläche der Oper nah, mit einem Hauch von Humor und Spaß. Die Damen des Programms sind in der Tat die erotischsten Frauen in der Welt der Oper.
You can also like us on facebook